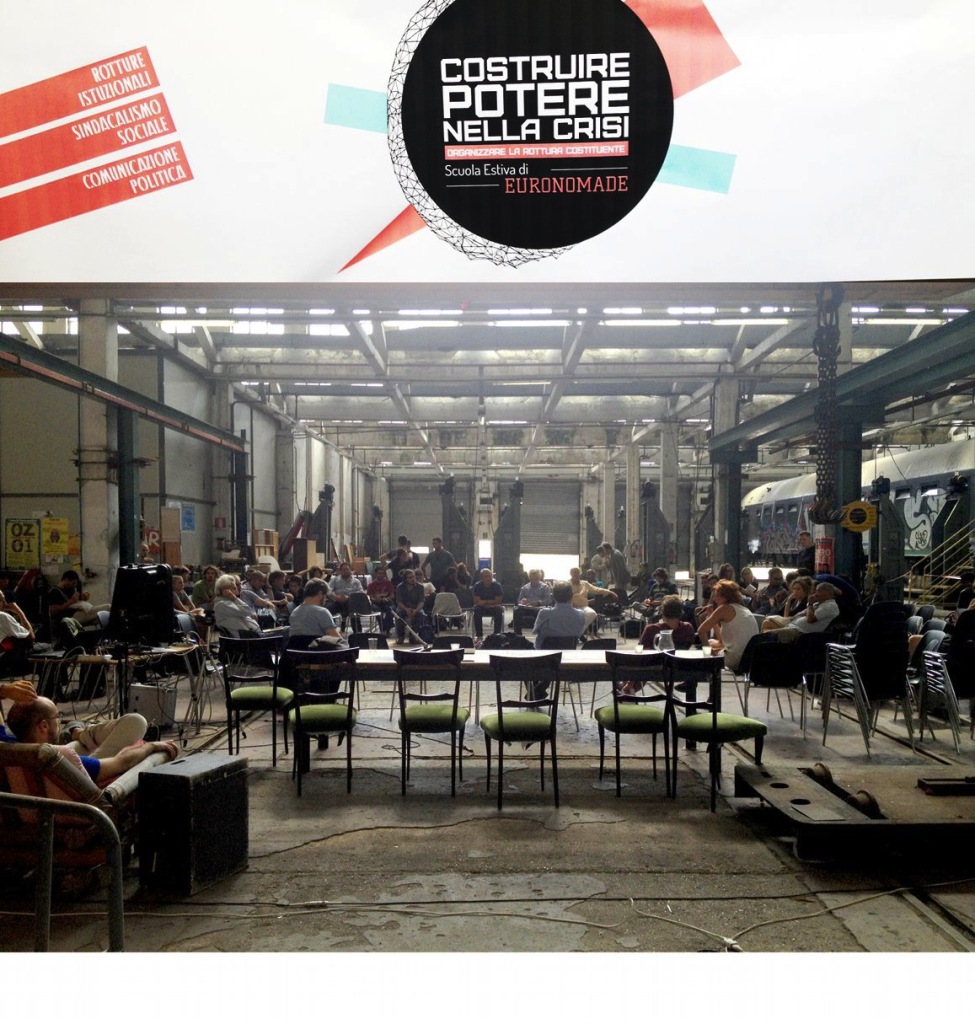 On next week's Totuusradio we will hear a compilation of interviews from the EuroNomade Summer School. The two-hour programme consists of short introductions to persistent themes in the current political conjuncture, relevant for the transnational struggle against the global finance capital and governance by debt.
Prototypes of Collective Action (1h)

The Occupied Factory – Laboratory of Law – Municipal Democracy – Social Unionism of the Indebted Life – Network Systems

To Subvert Europe (1h)

The Revenge of the Fordist Worker – Basic Income and Social Unionism – Hacking the Algorithms of Exploitation – Bringing Down the Borders – Politics of Difference
Broadcast time: Monday 21st of September 2015 from 8PM til 10PM (GMT +2 hours)
Radio frequency: 98,4 (from 50 kilometers from Näsinneula in Tampere, Finland)
Internet stream 1: TUNEIN
Internet stream 2: http://moreeni.uta.fi/Internetlahetys
The broadcast can be listened in the archive after the broadcasting.
Speaking Elisa Gil & Miriam Fre,Enrica Rigo, Miriam Bueno, Lotta Tenhunen, Raúl Sánchez Cedillo, Christian Marazzi, Andrea Fumagalli, Tiziana Terranova, Sandro Mezzadra and Alisa del Re.
The music courtesy of Raúl Sánchez Cedillo.
Recorded and edited by Lotta Tenhunen.
These brief strokes of a brush will hardly be able to grasp the issues in all their depth; the ones who find themselves keen on the themes approached can look for further leads from the list of articles that is available clicking the link below.
Further readings:
Learning Together: Officine Zero. Conversion of an abandoned factory into a space for sustainable production, co-housing and co-working
The workers' economy, a global challenge. A report from the workers' at the occupied Officine Zero in Rome
Occupy, Resist, Produce. Documentary on Officine Zero
Enrica Rigo: Citizens Despite the Borders. Challenges to the Territorial Order of Europe
Universidad Nómada: For a Democratic Revolution
Municipal Recipes, documentary project about Ganemos Madrid and Guanyem Barcelona, the movements that build Ahora Madrid and Barcelona en Comú
Carlos Delclós: Towards a new municipal agenda in Spain? (review of the previous documentary project)
Ada Colau & Adria Alemany: Mortgaged Lives
Provisional University: Six Lesson's from Spain's Anti-Eviction Movement
Provisional University: The Mortgage Holder's Platform. Resisting the Financialization of Housing
DatAnalysis15M: Technopolitics, the potential of connected multitudes. The 15M network-system as a new paradigm of distributed
politics
DatAnalysis15M: Slides of the Presentation of the Investigation on Connected Multitudes
Rodrigo Nunes: Organization of the Organizationless. Collective Action After Networks
Miguel Aguilera: Multitudinous identities. A qualitative and network analysis of the 15M collective identity
Christian Marazzi: "The Becoming of the Crisis", in The Violence of Financial Capitalism
Basic Income Earth Network: "19 economists call on the ECB to make 'QE for the people' in a letter to the Financial Times"
Andrea Fumagalli: Basic Income as Remuneration for Active Life
Andrea Fumagalli & Cristina Morini: Life put to work. Towards a life theory of value
Andrea Fumagalli & Cristina Morini: The Precarity-Trap and Basic Income.the Labour Market in Cognitive Bio-capitalism, the Italian Case
Tiziana Terranova: Red Stack Attack! Algorithms, Capital and the Automation of the Common
Alberto Toscano: gaming the Plumbing. High-Frequency Trading and the Spaces of Capital
Tiziana Terranova: Social unionism and digital labour in the transnational space of European austerity
Murat Bay: Interviewing Sandro Mezzadra, "Immigrants are a determining element of working class"
Nicola Carella, Giulia Orlandi, Cristian Sica: Emigrants in Germany. Hartz IV, working poor, forms of self-organisation between mutualism and social syndicalism
Interview of Lutz Achenbach, lawyer and activist for the freedom of movement, in the framework of the latter co-investigation
Mariarosa Dalla Costa: Women and the Subversion of the Community
Francesca Pozzi and Gigi Roggero: Interview with Alisa Del Re
Alisa del Re: Worker's Inquiry and Reproductive Labour
Precarias a la Deriva: First Stutterings
Amaia Perez Orozco: Ecofeminist degrowth or barbarity
Nancy Fraser: Fortunes of Feminism. From State-Managed Capitalism to Neoliberal Crisis