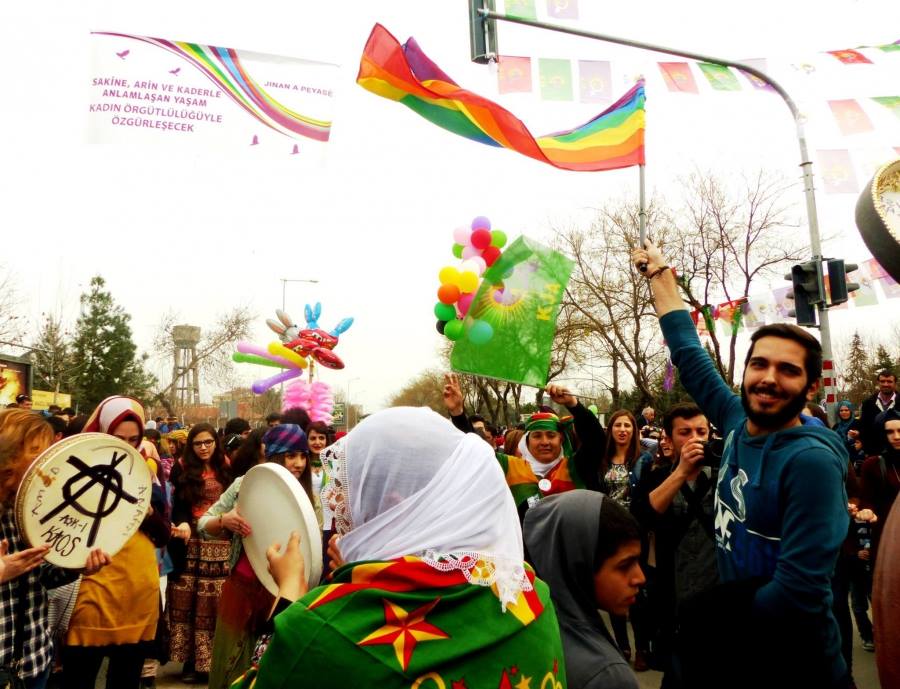 Aktivisti, feministi, ja väitöskirjatutkija Dilar Dirik saapui huhtikuun ensimmäisenä viikonloppuna Suomeen puhumaan Rojavan feministisestä vallankumouksesta. Totuusradio oli paikalla nauhoittamassa, kun Yhdessä Rojavan puolesta -ryhmä yhteistyössä Vatun kanssa järjesti 1.4. luentotilaisuuden Tampereen yliopistolla.
Kenttätutkimukseen perustuva luento käsittelee kurdien naisliikettä, feminismiä ja demokraattista autonomiaa Rojavassa, Pohjois-Syyriassa. Lisäksi Dirik kertoo ideoista Rojavan vallankumouksen taustalla. Mitä voimme oppia Rojavan demokraattisesta projektista? Voiko ajatus demokraattisesta autonomiasta levitä? Miltä meidän solidaarisuutemme tulisi näyttää?

Luennon jälkeen Ina ja Juho Yhdessä Rojavan puolesta -ryhmästä haastattelivat Dirikiä Totuusradioon. Keskustelussa nousi esiin muun muassa siirtolaisten asema Rojavassa ja Rojavan koulujärjestelmä.
Yhdessä Rojavan puolesta:
Blogi( http://rojavanpuolesta.tumblr.com/)
Facebook (https://www.facebook.com/rojavanpuolesta/)
Twitter (https://twitter.com/rojavanpuolesta)
Instagram (https://www.instagram.com/rojavan_puolesta/)
Ask.fm (https://ask.fm/).
Dilar Dirikin suomeksi käännettyjä artikkeleja:

Feminismi ja kurdien vapautusliike
http://rojavanpuolesta.tumblr.com/post/141777844300/dilar-dirik-feminismi-ja-kurdien-vapautusliike
Kurdien kriminalisointi ja PKK:n kieltämisen yhteiskunnalliset vaikutukset http://www.rauhanpuolustajat.org/lehti/rauhan_puolesta_62015/kurdien_kriminalisointi_-_pkkn_kieltamisen_yhteiskunnalliset_vaikutukset/
Lähetysaika: maanantai 4. huhtikuuta 2016 klo 20:00–22:00

Radiotaajuus: 98,4 (Radio Moreeni, kuuluvuus 50 kilometrin säteellä Näsinneulasta)

Internet-kuuntelu 1: TUNEIN

Ohjelma on aikanaan kuunneltavissa myös ohjelma-arkistossa
---
Dilar Dirik & Rojava's feminist revolution
Activist, feminist and PhD student Dilar Dirik came to Finland for the first weekend of April 2016 to talk about the feminist revolution at Rojava. At Tampere, she spoke about the kurdish women's movement, feminism and democratic confederalism in Rojava. Dirik's lecture at University of Tampere on the 1st of April was recorded by Totuusradio. This event was organized by a local Rojava-solidarity group Yhdessä Rojavan puolesta and the feminist organization Vattu.
Dirik talks the ideas of the Rojava revolution, partly based on her research trips to the region. What lessons can we draw from this democratic project in Rojava? Can the idea of Democratic Autonomy spread? What should our solidarity look like?
After the event Ina and Juho from Yhdessä Rojavan puolesta interviewed Dirik for Totuusradio. Migration in Rojava and the education system in Rojava were discussed among other questions.
Two articles by Dilar Dirik:
Feminism and the Kurdish Freedom Movement
http://kurdishquestion.com/index.php/insight-research/feminism-and-the-kurdish-freedom-movement.html
Criminalizing Our People: Social Impacts of the PKK Ban
http://www.telesurtv.net/english/opinion/Criminalizing-Our-People-Social-Impacts-of-the-PKK-Ban–20151120-0014.html
Broadcast: Monday 4th of May 2016, 20:00–22:00 (UTC+2)

Frequency: FM 98,4 (only in Tampere, Finland)

Internet broadcasting: TUNEIN

The programme will be listenable and downloadable in the programme archive (ohjelma-arkisto).